Fashola Tells Chibok Community To Remain Hopeful On Girls' Rescue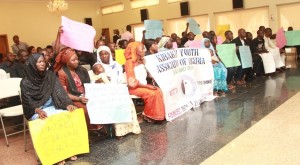 Governor Fashola on Monday asked the people of Chibok, Borno State, to remain hopeful on the safe return of the school girls abducted by members of the Boko Haram insurgency.
Members of the Kibaku Youth Association based in Lagos had staged a peaceful protest at the Secretariat in Alausa, Ikeja, asking the governor to help toward facilitating the release of the remaining abducted school girls in Borno.
Over 200 girls were reported missing after an attack by members of the Boko Haram insurgency on the Government Girls Secondary School in Chibok, two weeks ago.
The protesters, numbering about 50, urged Governor Fashola to prevail on the Federal Government and relevant agencies to take result-oriented steps to ensure the girls' safe return.
Moses Zakwa, who led the protest, said the incident had caused Chibok's indigenes to live in fear.
"All our hearts are bleeding over the abduction of our sisters, daughters and future mothers. We are really disturbed and we need help.
"Gov. Fashola, we know this incident occurred outside Lagos, but we are appealing to you to prevail on the relevant quarters and do other things you can to ensure the girls are rescued," he appealed.
Fashola received the protesters and commending their decorum. He decried hostage-taking, stressing that it was dehumanising and an act of cowardice.
He assured the youths that he would forward their letter of protest to President Goodluck Jonathan and also addressed claims that the military was unwilling to swoop on the hideout of the abductors. The Lagos State governor pointed out that the military's decision must be for safety reasons, so as not to increase the casualty figure and not because of lack of capacity.