Pay More Attention To Construction And Real Estate, Ex Minister Tells FG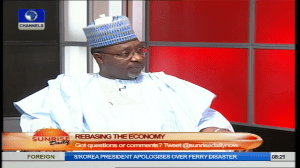 The President of the Nigerian Institute of Quantity Surveyor and former Minister of State for Power and Steel, Mr Murtala Aliyu, on Wednesday urged the Federal Government to pay more attention to  construction and real estate sectors as it could contribute more to the Gross Domestic Product (GDP).
"There is no economy that goes in a sensible manner without engaging the construction sector" adding that the real estate and construction sectors of the economy account for11 per cent of the Nigeria's GDP.
He noted, that this is "in spite of not getting the appropriate attention from government; with the correct attention we should be doing more.
"South Africa has about nine per cent contribution (to their GDP) from construction alone" revealing that "it was around seven per cent sometime in the 80s" he said.
Mr Aliyu while speaking as a guest on Channels Television's award-winning breakfast show, Sunrise Daily, also noted that rebasing of the economy should only be celebrated if it provides "the proper environment for investors to be encouraged" insisting that there is "nothing to fear, nothing to criticize and nothing to celebrate as long as you don't take advantage of the rebasing".
He further called on the federal government to embark on the utilisation of the local capacities berating the high number of foreign players in the construction sector.
He described the mortgage system in the country as "structurally weak" and called on the authorities to "sensibly put things in place which will encourage growth in the economy for people to afford and sustain the mortgage".
Despite the improvement recorded by some states on the issue of the Land Use Act, Mr Aliyu said the FCT Land Use Act which was written in 1881 is under review now, has made the acquisition of land "very cumbersome" insisting that it has also discouraged citizens from acquiring lands from those who hold  lands in trust for people.
He however noted, if that can be corrected, more estates will be built, the housing deficit in the country will be reduced and gradually eradicated.
Mr Aliyu also blamed the poor quality of materials used in construction and real estate sectors as "graft and corrupt" insisting that "unless these issues are addressed, the quality of the products will continue to be low.
"People compromise so much by not putting all that is necessary in terms of the money paid for the job because somebody is sharing part of it".
He urged the federal and state governments to strengthen quality control mechanisms to ensure the use of quality materials in the execution of projects by professionals and contractors.