Industrialist Calls On Government, Private Sector To Provide Employment
The National President, Association of Micro Industries of Nigeria, Muhammed Mustafa has called on the government to provide an enabling environment for the private to help in job creation for the youths.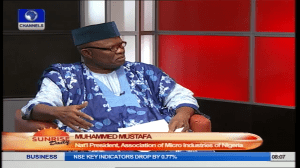 He mentioned that the government has an obligation in helping  the private sector to gain profit which will add to the expansion of business after which employment process follows.
While speaking on Channels Television's breakfast programme, Sunrise Daily, Mr. Mustafa questioned the outcome of the Skilled Acquisition Programme, if it grantees employments, he compared Nigeria to Asian countries, noting that these countries have 40% of their government's procurement that must be supplied by the Small Business Communities.
He commended the Local Content Law for helping his association in funding small businesses but emphasized the need for stakeholders in the country to help fill the gap of the government, "the government alone cannot do everything"
He also noted that there are 38 thousand small business in India but are all controlled by a central body to enable the growth of the small and medium enterprises in their country.
Mr. Mustafa stated that the agriculture sector drives a lot of opportunity for employment, adding that in agriculture there is a lot of money in canning of food which his association is helping to drive.
He advised the private sector and stakeholders to take responsibility in job creation and not leave the load for the government.