Chibok Girls: Women Ask Government To Seek Foreign Assistance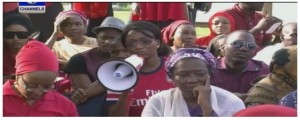 Concerned women and relatives of over 200 secondary school girls abducted on April 14 in Chibok, Borno State have called on the Nigerian government to seek foreign assistance for the rescue of the girls.
The women reconvened at the Unity Fountain in Abuja on Friday to push for concerted efforts by the government to rescue the young girls.
They said that the government was treating the issue with levity, declaring that they remain resolute in compelling the government to do all it can to rescue the children.
It is the third day of the protest that started 16 days after the girls were abducted by suspected members of the Boko Haram sect after attacking the Chibok community.
At about 3.30pm local time, they made their way to the Unity Fountain where they settled down for deliberations of the day.
They called for the cooperation of external agencies in bringing back the girls to their parents.
While many say that the priority of government at the moment should be how to protect the lives of young Nigerians, some young girls said their lives were in danger in their own country.
The protesting women seem not to be alone in the fight for the rescue of the girls, as the Vice President of the Nigeria Labour Congress, Tunde Aremu, pledged to put pressure on the government until the girls are released.
One of the women leading the protest and a former Minister of Education, Dr Oby Ezekwesili, said they would continue the protest at the same venue until the girls were rescued by the government.
The Joint Task Force fighting the insurgents in the north east said they were making efforts to rescue the girls.