Group In U.S. Demands Release Of Abducted Chibok Girls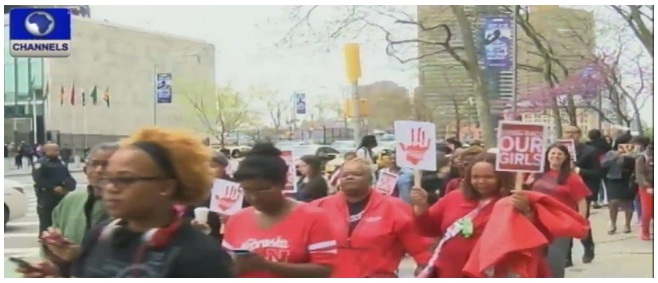 A group of sympathisers has converged on New York in the United States to campaign for the release of 223 school girls still held by suspected members of the Boko Haram sect that abducted over 270 girls from the Government Girls Secondary School in Chibok.
In a public demonstration, the protesters, comprising people from all walks of life, made an impassioned call for the girls' release, counting down their numbers.
Though they are not directly linked with the girls, they came out in their numbers chanting; "Bring back our girls" as they protest in New York.
They held placards with different inscriptions, demanding the release of the girls who were abducted on April 14.
A similar protest by mainly concerned women and relatives of the girls is holding in Nigeria. The protest Started on Wednesday and the women had said they would not stop until a concrete action had been taken by the government.
A police report on Friday puts the number of the abducted girls at 276.
Borno State Commissioner of Police (CP), Tanko Lawan, gave the revised number while briefing reporters in Borno State.
"So far, we have established that no fewer than girls were abducted at the Government Girls Secondary School (GGSS), Chibok on April 14, 2014 by suspected members of the Boko Haram Terrorist Group".
"out of the 276 abducted students of the school, 53 female students have been rescued; while 223 are still missing; and suspected being held by Boko Haram terrorists in various parts of the state," he said.