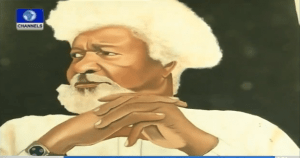 Every year the living legend series honours Africa's finest art works, this time Nobel Laureate, Wole Soyinka's name is on it especially as he becomes a year older. 
About 30 Fine-Art students from the Moshood Abiola Polytechnic in Ogun State are armed with their sketch pads and drawing under the watch of professional instructors, an experience their tutors believe will definitely come in handy, especially for a man who is passionate about impacting the next generation.
The Ogun State Cultural Centre, Kuto saw a beehive of activities as art enthusiasts see different angles of this literary icon.
Wole Soyinka has always been an exciting muse for artists, his grey hair and other features fascinate them, the range of works from paintings to sculptures show artists sticking to their comfort zones while still keeping their gaze on him.
The project is to document, and celebrate distinguished Nigerians that have contributed positively to this country and beyond.