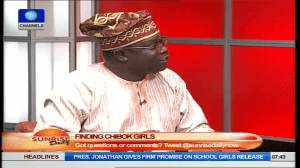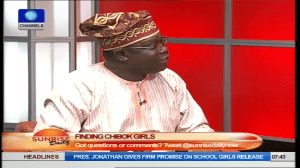 A public affairs analyst, Mr Sola Ojewusi, has blamed the federal and state governments over the kidnap of over two hundred school girls in Chibok, Borno State.
Speaking as a guest on Sunrise Daily, Channels Television's breakfast programme on Monday, Ojewusi blamed the lack of synergy between the governments and the West African Examination Council (WAEC).
Reacting to a comment credited to the Head of WAEC's National Office in Nigeria, Charles Eguridu, Ojewusi said "there seems to be a disconnect right from all forces that should have given the security needed to this kind of people involved.
"There is kind of a slow approach from the state and federal governments and from all the people that should have acted".
He called for an investigation into the allegation made by Eguridu that the WAEC had recommended the relocation of the students from Chibok to Uba Local Government Area in Borno state.
He urged the federal government to create a better way of communication with the state governor and vice versa because "the president is in Abuja" and those on ground "may have more information than the presidency" noting that "you don't expect the president to be everywhere". He however was quick to add that the "buck stops at his desk".
"But you have to help the president to do the things that you have asked him to do" he said.
He further noted that the Boko Haram issue is a Nigerian problem and not a regional problem citing the concerns the federal government had when the Niger Delta militants were attacking oil installations and kidnapping expatriates working for oil and construction companies.
He called on northern elders to call the radical Islamist sect to order the way "leaders in the south west went to meet this people (Odua People's Congress) and told them we know you are trying to do something to be able to be a voice for the people of the South West but there are certain actions you are taking that is going to affect the interest of not only the south west but Nigeria" .