UK To Help Nigeria In Fight Against Terror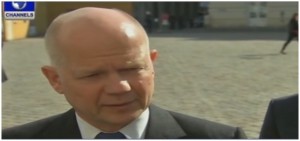 British Foreign Minister, William Hague, has offered to help Nigeria secure the release of more than 200 school girls kidnapped by Boko Haram on April 14 and in the fight against terror.
The girls were kidnapped from the Government Girls Secondary School in Chibok, Borno State.
Mr Hague told journalists after he arrived from a Council of Europe meeting in Vienna, that the UK would be offering tactical help.
He insisted that he would not discuss the details of the help that Britain was offering.
Spoils Of Terrorism
"The actions of Boko Haram in using girls as the spoils of, the war and spoils of terrorism is disgusting. It is immoral and it should show everybody across the world that they should not give support to such a vile organisation and it is an example of why we have set up the preventive sexual violence initiative," he said.
The decision to assist Nigeria in the fight against the Boko Haram insurgents is coming days after the abduction of the girls sparked protests in different states in Nigeria and in some countries, with a "Bring Back Our Girls" demand.
The Nigerian President, Goodluck Jonathan, in a media chat on Sunday, called for international support in the fight against the Boko Haram terrorist group.
The group that is demanding for an Islamic state have carried out series of attack on villages, churches and schools in the north east, with the abduction of the girls as spoils of terrorism on April 14 drawing world interest.
After president Jonathan said in the media chat that no group had claimed responsibility for the abduction, the leader of the Islamic sect, Abubakar Shekau, released a video, claiming responsibility and threatening to sell the girls "in a market".
Rescue efforts by Nigerian security agencies have not yielded any result, as it is over three weeks since the girls were abducted.
Police report says out of the 276 abducted students of the school, 53 female students escaped from their abductor within the first week of their abduction while 223 are still missing.