DSS Arrests Perpetrators Of April 14 Nyanya Bombing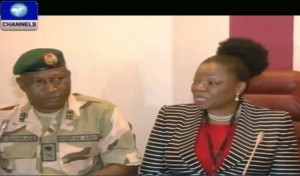 The Department of State Service, DSS, has arrested five men for the April 14 bombing of Nyanya Park in Abuja, Nigeria's Federal Capital Territory.
The DSS has also declared wanted one Rufai Abubakar Tsiga and Aminu Sadiq Ogwuche for allegedly masterminding the bombing.
Addressing a media briefing at the service headquarters in Abuja, the spokesperson of the service, Marilyn Ogar, while revealing the identities of those arrested, also revealed details of past encounters with one of those declared wanted.
She said: "It is noteworthy that the UK born Aminu Sadiq Ogwuche, with Service Number 95/104 deserted the Nigerian Army in 2006. He served in the Intelligence Unit of the Nigerian Army between 2001 and 2006 and was posted to the Nigerian Defense Academy in 2006, but rather than reporting at the academy, he deserted.
"Aminu Sadiq Ogwuche was arrested by this service (DSS) on 12th November 2011 at the Nnamdi Azikwe International Airport Abuja on his arrival from the United Kingdom for suspected involvement in terrorism related activities, but was released on bail on 15th October 2012 to his father, a retired Colonel, Agene Ogwuche, following intense pressure from human rights activists who alleged human rights violation."
She further stated that "Nigerian security forces shall not rest on their oars until every individual or group of persons involved in the Nyanya bombings are brought to book."
Those arrested are Ahmad Rufai Abubakar, Muhammadu Sani Ishaq, Adamu Yusuf, Yau Saidu and Anas Isah.
The service, in addition, also announced a reward of 25million Naira for anybody with useful information on their whereabouts.
A bomb went off during morning rush hour on April 14 2014 at the Nyanya motor park Abuja, killing 75 people, injuring several others.