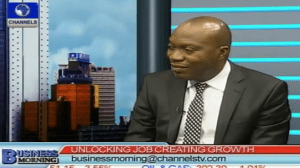 For the private sector to promote inclusive growth and job-creation, the Federal Government must be more proactive in creating business in enabling environments.
The CEO, Cowry Assets Management Limited, Mr. Johnson Chukwu, who was on Business Morning  advocated the need to improve the quality of education in the country and recommended that skill acquisition should be a part of early learning.
He urged policy makers to come up with policies and initiatives to encourage private sector participation in developing the real sector.
According to him, if some major challenges hindering the smooth running of businesses are addressed, the private sector will be able to contribute more to economic growth and create more jobs.
He highlighted some of the challenges which include lack of adequate power supply, multiple taxation, poor transportation network among others.
Mr. Chukwu says this will help increase the competence of job seekers and reduce unemployment in the country.