National Conference Resumes With Call For Chibok Girls' Rescue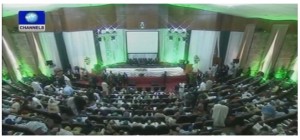 Delegates at the national conference have again urged security agencies in Nigeria to do more to check the level of insecurity and also rescue the missing Chibok girls.
After four weeks of committee work, the issue of insecurity was the first that the delegates discussed and reached a resolution on at Monday's plenary.
The conference also received reports from over 12 committees and is to commence consideration on Wednesday.
Twenty different committees had had four weeks of intense work, deliberating on different issues of interest with the sole aim of creating a better Nigeria.
The plenary started with the delegates correcting their votes and proceeding of their last day in plenary.
One major issue, that had to do with their commendation of the security agencies, caught their attention.
More than 20 days after their commendation, the girls abducted on April 14 are still missing and a delegate, Professor Eddy Erhagbe stressed that the security agencies needed to do more in effort to rescue the girls abducted by members of a terrorist group, Boko Haram.
The issue started off a discussion as delegates proposed amendments and other motions, leading to disorder and the chairman had to bring it to an end.
After the issue was resolved, the secretary of the conference asked the chairmen of the committees to lay their reports.
The reports were then distributed to delegates after a debate on the manner the committee reports would be considered caused further uproar.
Having received reports from some committees, the Chairman adjourned plenary till Wednesday. The delegates are expected to commence the consideration of the reports of the committees on religion, environment, land tenure and immigration.
Plenaries that would be held within the next few weeks as seen as the very crucial part of the conference, as recommendations would be based on the decision that the delegates would reach after deliberation on the issues.
The conference that began in March is expected to end in June with recommendations aimed at creating a better future for Nigerians.