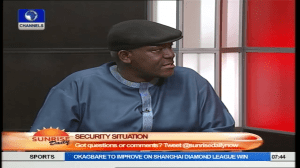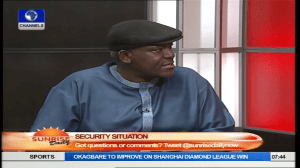 A public affairs analyst, Emmanuel Ado today (Tuesday) described Nigeria's security challenge "as not a quick fix situation", insisting that the challenges has two perspectives and will take time to be fixed.
He however commended the Nigerian Army and maintained that the army has been stretched because of the "certain situations we have brought upon ourselves".
"We have piracy in the Niger Delta, kidnapping in the South East and Boko Haram in the North East" he said, noting that the entire officers of the Nigerian military, which he tagged generously at 120,000, cannot be deployed to quell the insurgency in the north east.
Mr Ado alleged that the last time a major procurement of arms and ammunition was carried out by the Nigerian Army was 31 years ago under the regime of President Shehu Shagari. Though he was quick to add that the Obasanjo and Jonathan administrations have also 'done something'.
He noted that insurgencies all over the world are known to have lingered a bit and urged Nigerians not to, ''in their characteristic nature'', think "it is a quick fix situation where they will wake up tomorrow and hear that we don't have insurgents again".
He also called for a total overhaul of the funding system of the security forces despite noting that, with the present arrangement, Nigerian Army is the sixth most funded in Africa.
"We are sixth in Africa in terms of expenditure on the military and we have ambitions to be a regional power" adding that the "United States spends $700 billion on their military" while "Nigeria spends only about 0.9 per cent of our Gross Domestic Product (GDP)" which "is far below the world average".
"How much of that goes into procurement? That is why we are where we are" insisting that "we have serious work" he said.
He maintained that the entire police force in the north eastern part of the country is "non-existent" adding that "it is the military" that are maintaining law and order.
Apart from fighting the insurgency, Mr Ado noted that the government also deals with certain issues alongside the insurgency.
"Insurgency wars are very difficult; we have contending issues like the state of emergency and allegations of sabotaging soldiers of a particular religion" insisting that "these are issues that you have to be very careful in finishing off" he said.
He accused Amnesty International of making reports that are "untrue and unfounded" against the Nigerian Army after "they (military) have done well" adding that "there are conventions of war and the Nigerian military is well aware of them".
While calling on President Jonathan to grant amnesty to Amnesty International on "that report that was far-fetched", he urged Nigerians to exercise patience with the Nigerian Army in their fight against terror.