Channels National Kids Cup: We Are Out To Catch Them Young- Okon-Akpan
Head, Sports Desk of Channels Television, Austin Okon-Akpan, today (Tuesday) announced the commencement date of the Channels National Kids Cup as May 24-27.
Speaking during the Station's breakfast show, Sunrise Daily, Mr Okon-Akpan stated that teams to participate in the National tourney include states from "Jigawa, Sokoto, Kaduna, Oyo, Ogun, Ekiti, Ogun, Ondo, Abia, Rivers, Ebonyi and Kwara" adding that "we are ready to start catching them young".
Mr Okon-Akpan, who noted that four teams will be representing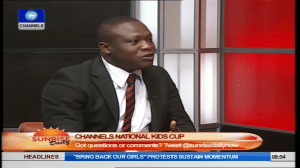 Lagos State, added that the excitement that has greeted the competition will make it absolutely interesting.
He singled out Ishiaka Adedeji from Ebute-Metta Primary School, whom he tipped to be one among many star players to be watched during the competition.
He urged the relevant football authorities in the country to "monitor and support these group of players" insisting that "the next Cristiano Ronaldo will emerge from the group".
He commended the efforts of School Road, Aba in Abia State for producing some Super Eagles players and wondered how the players from Lagos and other States will handle the protégés of footballing heroes past.
He however sent the message of the Lagos representatives, who just concluded their preliminaries, to those coming from around the country, including School Road, Aba.
He said "the Lagos guys said don't care if they are coming from any school, they are ready and will fight till the end".
He likened the talents of Yusuf Ajayi to world goalkeeping legends, George Campos of Mexico and Jose Luis Chilavert of Paraguay, who were famous for their specialty in dead ball situations and acrobatic goalkeeping style.
Mr Okon-Akpan promised Nigerians that the competition will be no less as interesting as the national and international competitions that take place in Nigeria, Africa and the entire world and maintained that "for us at Channels Television, the objective is simple, we want to be able to catch them at this level. Not necessarily take them to one club or academy".
"The fact that you take them out of their classrooms and give them the opportunity to show that they can play football; they have talents in them, I think it is admirable" he said.
He however berated the unfortunate incident of age cheats during the preliminary stage of the competition and warned that all hands will be on deck to check other schools coming from the states mentioned above and ensure that the scourge is reduced to its barest minimum during the competition.