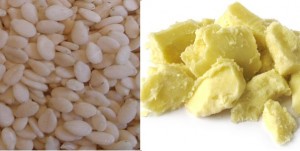 The Nigeria Export Promotion Council says it has spent $230,000 to improve the production and export of Shea Butter and Sesame Seed.
At a meeting held in Abuja on Wednesday between officials of the Nigeria Export Promotion Council and producers of Shea Butter and Sesame Seed, the Executive Director of the Council, Mr Olusegun Awolowo, said the initiative was aimed at ensuring that products exported were of international standard.
He also said that the initiative would help ensure that the products gained international acceptance.
He said the export of competitive products outside the shores of the country was essential for the creation of wealth and poverty reduction.
Mr Awolowo further promised continuous support for exporters but urged Nigerians to harness the country's natural resources towards wealth creation and poverty reduction.
The initiative for the improvement of the products was applauded a representative of the International Trade Centre, Ludovica Ghizzoni, who stressed the need for constant engagement with exporters to keep them abreast with international best practices.
With most states in Nigeria building partnerships to help it's indigenes to focus on how to export products with competitive advantage, a Permanent Secretary with the Ministry of Commerce and Cooperatives, Kwara State, Sharu Mohammed, suggested adequate funding.
Over the past 10 years, demands for Shea Butter products and Sesame Seeds have grown in the European Union and the United States.
The challenge is now thrown to Nigerian exporters to seek ways of improving the quality of their products for it to get international acceptance.
Shea Butter is an off-white or ivory-colored fat extracted from the nut of the African Shea tree (Vitellaria paradoxa) while the Sesame is a flowering plant in the genus Sesamum, with numerous wild relatives occurring in Africa and a smaller number in India.
.