Jos Blast: Death Toll Increases To 76 As Police Boss Visits Victims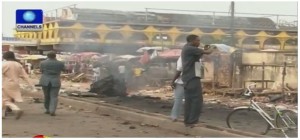 The death toll in the twin bomb blasts that occurred on Tuesday in Jos, Plateau State capital, has increased to 76, security officials said, as they gathered ruminants of possible items used in the attack for forensic analysis.
The Inspector General of Police (IGP) and Director General of National Emergency Management Agency visited the scene and victims on Friday.
After visiting the scenes of the incident and victims receiving treatment at various hospitals, the police boss, Mr Mohammed Abubakar, assured Nigerians that the culprits of the 'dastardly act' would be captured as soon as possible.
Commercial activities in the central business centre of Jos are paralysed with the market area cordoned off by security agents combing the arena for bodies of victims and materials used by the suicide bombers for forensic analysis.
Members of the State Security Services, the criminal investigation department of the Nigeria Police as well as the National Emergency Management Agency (NEMA) were seeking and collecting human parts scattered all over the market vicinity.
Confirming the death toll, the Plateau State Police Commissioner, Mr Chris Olakpe, explained that the medical team and rescue operation officials, after going round the hospitals where victims were taken, affirmed that 76 persons had died so far.
The IGP led the presidential delegation that visited the scene of the bomb blast and some hospitals to see the injured recuperating victims.
One of the injured persons from Delta State in one of the hospitals visited said he was buying an item when the blast occurred and was yet to contact his people.
As the residents continue to count their losses in the blast, lots of people are still searching for their loved ones as some of the dead bodies are mutilated while some are burnt beyond recognition.
No group has claimed responsibility for the attack that claimed 46 lives when it occurred on Tuesday.
But a terrorist group, Boko Haram, has carried out series of similar attacks on villages, churches and schools in the north eastern part of Nigeria.
President Goodluck Jonathan on Tuesday condemned the act and assured Nigerians of the government's commitment to ending the insurgency.