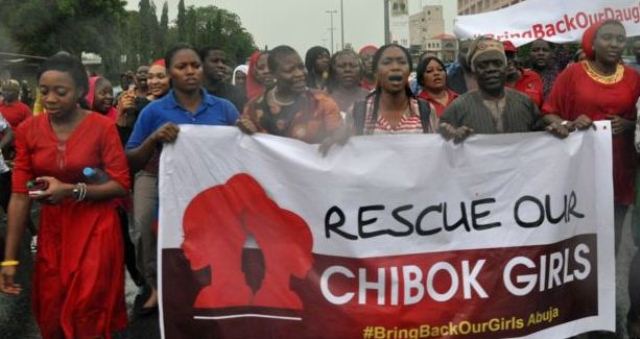 Former Education Minister, Dr. Oby Ezekwesili, and the 'Bring Back Our Girls' Coalition have been refused entry into the Presidential Villa in continuation of their protests.
The efforts of the campaigners to get to the Presidential Villa were frustrated by officers and men of the Nigerian Police Force who put up a barricade.
The leader of the group, Dr Ezekwesili, insisted that with or without the blockade, they would proceed to the Presidential Villa to see the President, and that they would not stop until their girls were brought back
They were, however, met by a delegation of government officials sent by President Goodluck Jonathan, most of them ministers, also in the same red attire, who went to receive them at the entrance into the Three Arms Zone, which was made the meeting point.
Frustrated by the blockage, the protesters went down on the floor weeping, after which they rolled out ten questions for the delegation of the Presidency, led by Secretary to the Federal Government, Anyim Pius Anyim.
The Federal Government asked the 'Bring Back Our Girls' protesters to direct their protests to the terrorists, who are the real enemy, as the Federal Government works with the international community to effect the release of the missing girls.
Government said that it was unfair to say that it had been slow in action, calling on the group to match their patriotic zeal with a realistic understanding of the situation on ground.
Calling on Nigerian citizens to protect each other at this time, the President's delegates advised civil society groups to also use their influence to encourage Nigerians to supply useful information to security services, using the number 112.
Government extolled the orderly manner they conducted themselves but insisted that their protest should now be directed to the terrorists.
The protesters said that the response by the Government was grossly inadequate as it failed to meet any of their demands.
They also reminded the Government that they could not have been where they were if they were abducted like the missing girls. They maintained their earlier stance that they were not going to stop until the Nigerian girls are returned alive.