Ogun To Become To Lagos, What New Jersey Is To New York – Amosun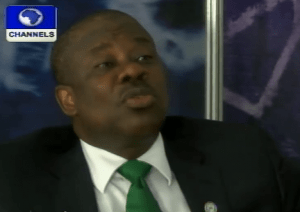 The Ogun State governor, Ibikunle Amosun, on Thursday restated his administration's ambition to making Ogun State become to Lagos, what New Jersey is to New York.
He made his resolve known while on Channels Television's breakfast programme, Sunrise Daily, stressing that Ogun State must take the economic advantage of its proximity to Lagos.
"Yes, we want to be to Lagos what New Jersey is to New York, but we want to do even more than that," he said.
"We must take the economic advantage of our proximity to Lagos and whenever I have the opportunity, I tell them that, we want to feed Lagos, we want to house Lagos, we want to move Lagos, indeed we want to clothe Lagos," he said, noting that "if we must do that, we as a State must get it right".
He also stated that Lagos was a huge market for investors and manufacturers, hence there would be good profit for Ogun State, adding that "if we are about 7 million and Lagos is about 20 million and of course Lagos is the biggest market".
The Governor recalled that several years ago, Ogun State used to supply Lagos food but stopped at some point. He went further to state that Ogun was making efforts to supply food to Lagos, to mitigate the need for the citizens to wait for food from the Northern part of the country.
He stressed the need for infrastructure which is directly connected to economic increase, unlike education and health which he said were more of social services.
"For us, we believe, if we get agriculture right, if we get the infrastructure right, then we have gotten it right," he concluded.