LBS Alumni Association Set To Hold 20th President's Dinner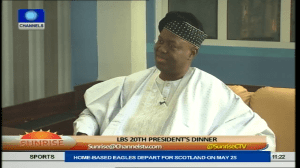 Ahead of the 20th Annual President's Dinner of the Lagos Business School Alumni Association (LBSAA) taking place at the Convention Centre of the Eko Hotel and Suites on Saturday, June 7, 2014, starting at 6.00pm with cocktail reception, President of LBSAA, Sir Demola Aladekomo, alongside other members of the executive committee discussed the mission and values of Lagos Business School.
Mr Aladekomo, who noted the significant growth the dinner has made n the past years, added that guest list at the event includes "the who is who in Nigeria". He further noted that the school has produced "Bank MDs, top government functionaries, governors and Chairmen of publicly listed companies on the Stock Market".
For the Vice President of the Alumni, Mr Wole Oshin "the track record of the quality of learning process and education" has made it compelling for executives to attend the institution adding that "LBS instils in you integrity, which is critical in the development of any business.
"By the time you go through a programme in LBS, you come out challenged and that has impacted the economy as a whole because we do have a lot of alumni that are in strategic places in the private sector, which indirectly has affected the economy" he said.
The President's Dinner is the biggest social event of the School and the LBSAA, and one of the biggest black tie events in Nigeria. 1,500 guests are expected at this year's dinner, up from 1,300 last year.
The dinner will feature awards to distinguished alumni and to distinguished classes of the LBSAA.