3 Killed In Jos Bomb Blast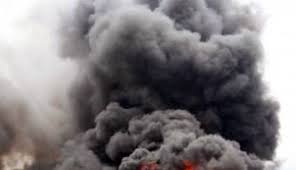 About three people have died after another bomb blast rocked the city of Jos, the Plateau State capital on Saturday night.
The explosion occurred along Bauchi road, close to a football viewing centre by University of Jos.
Eyewitness report says the bomber, approached the viewing centre while sports fans were watching the UEFA Champions League final between Real Madrid and Atletico Madrid, but could not get there before his car exploded.
The sound of the explosion was heard in Jos South LGA, which is about 25 kilometres away from the scene.
In the meantime, the Plateau State Governor, Jonah Jang, has urged residents to remain courageous assuring them that the culprits  would be brought to book.
The blast comes less than a week after twin explosions at the terminus market in the same city left many people dead.