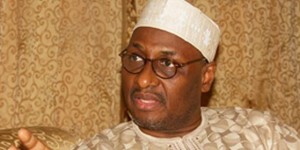 The National Chairman of the PDP, Adamu Muazu, believes that the Borno State Governor as the Chief Security Officer of his state should do more in the search for the over 200 Chibok schoolgirls.
In an exclusive interview with Channels Television and his first major interview since becoming the Chairman of the PDP, Mr Muazu feels that the Chibok situation has been used as a political tool.
The PDP Chairman spoke with our correspondent, Betty Dibia in South Africa.
He made reference to the warnings that preceded the Chibok incident which should have prevented the State Governor from allowing the school to host exams but which he refused to heed.
Muazu cited warnings by the Ministry of Education and the West African Examination Council, WAEC, expressing their fears and the view that the school was not suitable but which the State Government met with assurances of adequate security, only for the attack to be successfully carried out by the insurgents.
He, therefore, condemned the idea of the Governor traveling abroad and speaking to foreign media organizations and divulging what he saw as issues of Nigeria's governance.