FG Calls Off Deal To Swap Abducted Girls With Boko Haram Detained Suspects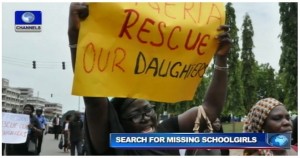 The Federal government has called off a deal with Boko Haram to return some of the kidnapped schoolgirls in exchange for the release of group members in custody, the BBC reports
The BBC also reports that an intermediary met Boko Haram leaders earlier this month and visited the location in north-east Nigeria where the girls were being held.
A deal was almost reached to set some of the girls free in exchange for the release of 100 Boko Haram members being held in detention.
But the government cancelled the planned agreement shortly before the swap was due to take place.
The reasons for the withdrawal are unclear.
It came just after Nigerian President Goodluck Jonathan attended a meeting in Paris hosted by President Francois Hollande of France where leaders said they had agreed a "global and regional action plan" against Boko Haram.
President Hollande of France, who hosted the summit, said regional powers had pledged to share intelligence and co-ordinate action against the group.
The Paris summit brought together Presidents Francois Hollande, Goodluck Jonathan, and their counterparts from Benin, Cameroon, Niger and Chad.
Afterwards, Mr Hollande said participants had agreed on a "global and regional action plan".
He said this involved "co-ordinating intelligence, sharing information… border surveillance, a military presence notably around Lake Chad and the capacity to intervene in case of danger".
Cameroon's President Paul Biya said: "We are here to declare war on Boko Haram". Idriss Deby of Chad said it would be "total war".