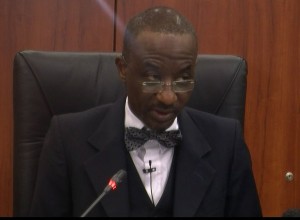 The Nigerian government has asked the Court of Appeal to upturn the Federal High Court's decision to transfer the suit against it by Mr Lamido Sanusi to the National Industrial Court, insisting that the Federal High Court lacks the powers to do so.
In a Notice of Appeal filed on May 27 by President Goodluck Jonathan's Counsel, Dr. Fabian Ajogwu, the President formulated three grounds of Appeal amongst which are that the Judge ought to have struck out the matter after declining jurisdiction instead of transferring the matter to the National Industrial Court and also that the Judge ought not to have transferred only a fraction of the Plaintiff's suit to the National Industrial Court, having struck out the name of a party and leaving behind or transferring the suit and reliefs sought against the party.
Mr Sanusi's quest to have his suspension as CBN Governor by President Goodluck Jonathan upturned by the courts suffered a setback on May 20, when Justice Kolawole of the Federal High Court, Abuja agreed with the submissions of counsel to the President, Dr. Ajogwu and counsel to the Attorney-General of the Federation, Mr Mike Ozekhome, who had in their preliminary objections to Mr Sanusi's suit requested to wash its hands off the matter as it had no Jurisdiction.
Counsel to Mr Sanusi, Mr Awodein's argument that the Federal High Court has jurisdiction was rejected by the Court as the Judge declined jurisdiction to hear the suit and transferred it to the National Industrial Court.
However, it is the contention of counsel to the President, that the proper order for the trial Judge to have made when it held that it has no jurisdiction was to strike out the suit in its entirety.
The government is also in contention that having determined the matter partially by striking out the third defendant (Inspector-General of Police) from the suit, the Court cannot transfer a case (against two Defendants) that has become different from what the plaintiff instituted (three defendants) before the Court.
"In other words, the Federal High Court cannot transfer a 'mutilated' matter to the National Industrial Court as already; the parties to the suit have been tampered with," the appeal filed by the government read.
The Attorney-General of the Federation, sued as the second defendant, had also filed a Notice of Appeal on May 26, through his Counsel, Mr Ozekhome, essentially on the same grounds as the President.
He claims that as at press time, there is yet to be a hearing date for the Appeal.