Experts Identify Security, Good Governance As Pillars Of Democracy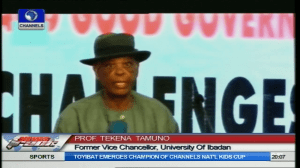 The rule of law, peace, security and an independent judiciary have been identified as pillars upon which democracy and good governance can only thrive. 
At the 2nd International Democracy and Good Governance Conference in Port Harcourt, the Rivers State capital, a former Vice Chancellor of the University of Ibadan, Professor Tekena Tamuno and France's former Minister of Foreign and European affairs, Dr Bernard Kouchner, stressed the need for the government to be more committed to securing lives and property.
Governor Chibuike Amaechi observed that the leadership of the nation must make conscious efforts in ensuring that these elements were put in place, as it would bring a stable and prosperous nation.
Prof. Tekena argued that "in some countries, there is a recognition that people will talk of 'one man, one vote' and stop there; that is not good enough" insisting that "it should be one man, one vote , one value" and noted that "in Nigeria, that is not true. We only have the same value for the rich and the poor in our country".
He said: "I do know that Boko Haram are not democrats but they are a serious challenge to democracy as we know it and as we practice. I wonder if Nigerians have forgotten that before Boko Haram, there were militants in Nigeria. Still there is MASSOB, OPC and MEND," he said.
The former vice chancellor asked if Nigerians were ready to redress the balance come 2015 so that the poor would not just be poor but relatively poor people with political power and their votes would count just like those of the wealthy people.
He further noted that the "prospects are not glorious and promising," insisting that "making everybody subjective to the law in our country has become the rule of men and so you have the impotence of the judiciary in its confrontations with the executives".
Dr Kouchner, in his remark, noted that "peace and security are number common good because it is the precondition of living in any habitat".
"Millionaires can hire private security but ultimately, security is the number one function of the state and the government must be empowered and take responsibility to create and maintain peace and security," Dr Kouchner said.
He noted that "one cannot deny that much has been made of democracy and democratic governance as prescribed by the concept of good governance"maintaining that some African states have adopted mechanisms that enable the political leaders achieve security and peace in the society.
"However many African nations have failed to make the full conditions as the working priority of leadership and government," he said.