Police Reverse Order Banning 'Bring Back Our Girls' Protest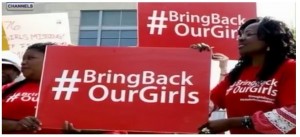 The Inspector-General of Police, Mohammed Abubakar, on Tuesday reversed an order by the Federal Capital Territory (FTC) police command banning protest in the nation's capital Abuja.
Addressing journalists at a news conference in Abuja, the spokesman for the Police, Mr Frank Mba, said the police authorities had not issued any order banning peaceful assemblies and protests anywhere in the country.
He, however, said the Inspector-General of Police advised conveners of such gatherings to ensure they seek proper advice and guidance from the police before engaging on protest.
Meanwhile, the 'Bring Back Our Girls' campaigners has filed a lawsuit against the police seeking 200 million Naira in damages and an order restraining the police from interfering with their protest.
On Monday, the FCT Commissioner of Police, Mr Joseph Mbu, issued an order banning protests calling for the rescue of abducted school girls in Chibok by the Islamic sect Boko Haram.
Mr Mbu hinged the ban on the emergence of parallel groups which posed security risk to the nation's capital, but the 'Bring Back Our Girls' campaigners rejected the directive, insisting that the protest would continue.
The police high command reversing the ban explained that intelligence report had necessitated the need to advise the protesters on the possibility of infiltration by criminal elements.
With the reverse of the ban on protesters and rallies, the coast is cleared for the 'Bring Back Our Girls' protesters to resume their campaign calling for the rescue of the abducted girls.
The girls were abducted by the terrorist group on April 14 from their dormitory at the Government Girls Secondary School in Chibok, Borno State.
The group is demanding a criminal swap to release the girls, who the military said it had identified the location they were kept by the terrorists.