National Conference Okays Removal Of Governors, Lawmakers' Pension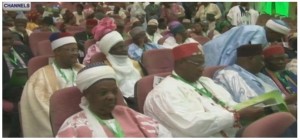 If the report of the national conference committee on public service is accepted by government, governors, deputy governors and legislators won't be entitled to pension, life insurance and severance pay.
The removal of the entitlements was a key part of the report that was considered and adopted by delegates at Wednesday's plenary.
The delegates also adopted the recommendation to have federal and state legislators function on a part-time basis.
At the plenary that began on a calm note, delegates considered a change to the procedure of debating committee reports to make its adoption faster, in order to meet up with the left time.
However, delegates were divided over the issue and the chairman was forced to take a decision, after which the conference commenced consideration of the report of the Committee on Public Service.
The recommendation that retirement age for civil servants, be reviewed upward to 65 years age limit or 40 years of active service was rejected by the conference.
Most of the recommendations adopted during the consideration of the Public Service report can help reform the public service but that depends on their full implementation.
Meanwhile, the next report to be considered is that of the committee on science, technology and development.
At Tuesday's plenary, delegates approved the removal of subsidy on petroleum products but with a clause that the government must build new refineries and repair existing ones.
The position followed amendments on the recommendations proposed by the Committee on Public Finance. Debate on the subsidy removal started on Monday with over 50 delegates speaking on the issue.
Delegates said that only when these and other conditions were met should the government be free to remove subsidy on petroleum products.