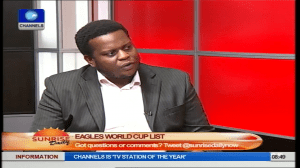 A sports journalist, Nnamdi Obanya has criticised Super Eagles coach, Stephen Keshi, for dropping some players from the squad that will represent Nigeria at the FIFA World Cup holding in Brazil in less than two weeks.
He gave kudos to the coach for retaining the defenders picked in the provisional squad but added quickly that he started having issues with the coach's list when some players with impressive scorecard were dropped.
"The issues started when we started seeing some people being dropped, that I don't think should have been dropped personally."
"Where we have the problem is going forward. We are taking only four standard midfielders- Mikel Obi, Onazi, Gabriel and Ramon Azeez and trying to pass Uchebo as a midfielder, when his club clearly says he is a striker, doesn't make sense to me," he said.
Obanya asked why some players were unfairly dropped but also hailed the selection of some, he described as "calm heads".
He also listed a few Nigerians that made their mark for their clubs in Nigeria and abroad that were not listed in the provisional squad and also flawed the formation employed by the Super Eagles during the goalless draw from the Greece friendly which was played earlier today in Philadelphia, U.S.A.
"Last night, Greece kept catching us, there was too much space between the full backs and the centre backs because the full backs are going forward to help." He insisted that "Mike and Onazi were too central, while Musa and Moses were too far forward. "There is a gap that the full-backs need to fill," he noted.
He warned that if the tactical flaws were not quickly rectified, Bosnia and Herzegovina forward, Edin Dzeko would be the beneficiary, as seen during the match with Ivory Coast, where the Ivoirians lost by two goals to one.