Jonathan Swears-In New Political Adviser, Permanent Secretaries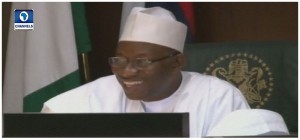 Nigerian politicians have been asked to make statements and utterances that give Nigerians hope rather than tear the country apart.
President Goodluck Jonathan gave the advice at the swearing-in of the new Special Adviser to the President on Political Matters, Professor Rufai Alkali in the Presidential Villa.
He described the political adviser's position as key, asking that as an experienced politician, Professor Alkali should bring his experience to bear in the day to day running of the affairs in the Presidency.
Also sworn in were Mr Simon Etim as a Commissioner in the Federal Civil Service Commission, Mr Sheri Danjuma, Ms Binta Adamu Bello and Babatope Ajakaye  as Permanent Secretaries.
The President told them to do their best to improve the quality of the civil service devoid of 'god fatherism' and indiscipline.
To Professor Alkali, the President said: "Your Appointment is key because you are the chief spokesperson of the President on Political Issues and when one listens to some of the comments that we politicians make, sometimes it could be terrible and does not really portray the character of good politics. We are supposed to be nation builders. In our utterances we should give Nigerians hope that this country must be together, that we must unite and that we must collectively forge ahead to develop our country".