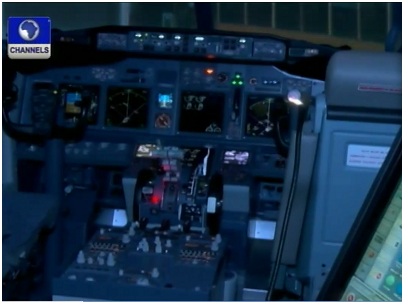 Caverton Helicopters is looking to establish a commercial aviation training facility in Lagos, southwest Nigeria.
The training facility will have a flight simulator base for pilots.
The new ground was made known to Channels Television by the charter company, as it visits the headquarters of CAE in Montreal Canada to seal a deal that will see the Nigerian company open a simulator training facility to be located at the Murtala Muhammed International Airport, Lagos.
It will have six simulator bays, that will include  with a CAE 3000 series aw 139 full-flight simulator (FFS), a CAE 7000 XR series Boeing 737NG FFS and two CAE Simfinity Integrated Procedures Trainers (IPTS), one that will bring change to West African.
The chairman of the Caverton Helicopters, Adeniyi Makanjuola, said that the idea was to diversify income stream from primarily flying helicopters to other sub-parts of the Aviation industry.
"That was the real drive behind it. We are spending a significant amount of money sending people away to get their re-currency drain done. So we felt that this particular segment of the market was one that is attractive because of the sustainability and because it was backed and driven by regulations which state that proficiency checks should happen every six month," Makanjuola said.
CAE is the world's largest manufacturer of simulators. The simulator is a device that artificially re-creates aircraft flight and the environment in which it flies, for pilot training and aircraft design.  It will not only be manufacturing the equipment for this proposed centre, the company will also be handling the centre operation services for over six years and so the need to make a commitment to each other.
Shortly after a tour of the facility begins and was followed by a ride on Caverton's Boeing 737NG full flight simulator,
The training facility is expected to eliminate the challenges experienced by many pilots in the striving to obtain their re-currency training and type rating and also boosts local capacity development, while curbing capital flight.
The Flight Simulator
The best-known early flight simulation device was the Link Trainer, produced by Edwin Link in Binghamton, New York, USA, which he started building in 1927.
He later patented his design, which was first available for sale in 1929.
The link trainer was a basic metal frame flight simulator usually painted in its well-known blue colour.
Edwin Link was also an amateur pilot, but dissatisfied with the amount of real flight training that was available, he decided to build a ground-based device to provide such training without the restrictions of weather and the availability of aircraft and flight instructors.
His design had a pneumatic motion platform driven by inflatable bellows which provided pitch and roll cues. An electric motor rotated the platform, providing yaw cues. A generic replica cockpit with working instruments was mounted on the motion platform.
Initially, aviation flight schools showed little interest in this trainer, but the situation changed in 1934 when the army air force was given a government contract to fly the postal mail. This included having to fly in bad weather as well as good, for which the US Air Force had not previously carried out much training.
During the first weeks of the mail service, nearly a dozen army pilots were killed.
The army air force hierarchy remembered Ed Link and his trainer. Link flew in to meet them at Newark field in New Jersey, and they were impressed by his ability to arrive on a day with poor visibility, due to practice on his training device.
The result was that the USAAF purchased six Link Trainers, and marked the beginning of the world flight simulation industry.
A flight simulator is a device that artificially re-creates aircraft flight and the environment in which it flies, for pilot training, design, or other purposes.
It includes replicating the equations that govern how aircraft fly, how they react to applications of flight controls, the effects of other aircraft systems, and how the aircraft reacts to external factors such as air density, turbulence and wind shear among others
Flight simulation is used for a variety of reasons, including flight training (mainly of pilots), the design and development of the aircraft itself, and research into aircraft characteristics and control handling qualities
Flight simulators employ various types of hardware and software, depending on the modelling detail and realism that is required for the role in which they are to be employed.
Designs range from pc laptop-based models of aircraft systems (so-called Part Task Trainers or PTTS), to replica cockpits for initial familiarisation, to highly realistic simulations of the cockpit, flight controls and aircraft systems, for more complete pilot training.
The highest level of flight simulator for training commercial air transport pilots is known as a Full Flight Simulator (FFS) and for training military pilots the highest level is a Full Mission Simulator(FMS).
The FFS design is agreed by world civil aviation regulatory authorities such as the FAA in the USA and EASA in Europe, and has a motion platform on which the simulator cab is mounted, and a visual system that displays the outside world (OTW).