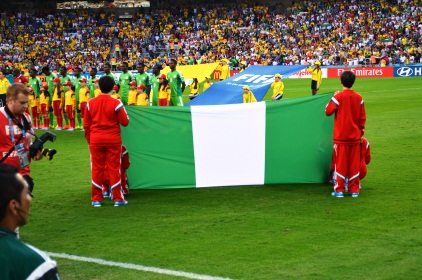 Sports journalist, Nnamdi Obanya, believes that divisions are normal in national teams but should not be an excuse for Nigeria's Super Eagles to fail at the World Cup.
During an interview on Channels Television's Sunrise Daily, he disclosed that the reported division in the national team camp had started earlier with news filtering about a purported bust-up between striker, Emanuel Emenike and midfielder, Mikel Obi, which the team later denied.
While admitting that factions are meant to always exist in a national team, he expressed worry that while Nigeria was facing its usual problem of division, the Bosnian Coach had disclosed that he was banking on the friendship and cohesion of his players to soar above the Super Eagles in their second group game on Saturday.
The most worrisome for Obanya was that the disunity of the Nigerian team could be seen on the pitch as they lacked cohesion and "there was no respect for anybody as a leader on the pitch".
"Enyeama is at the post and he doesn't have the ball at his feet, but there's nobody the players look up to. Clearly you could see the Iranians were looking up to Dejagah, Pjanic is going to have the same role for Bosnia, but Nigeria has no leader."
Mikel Obi would naturally come to the mind of many football followers as a leader who could dictate the pace of the game with his ball distribution but Obanya noted that spreading passes was not enough but the need to spread effective passes and not long balls to a player who is easily isolated without offering any form of support.
Obanya also berated the coaching crew of the team for the lack of tactical inputs as evident in the manner the team defended set paces and the quality of passes delivered to strikers like Shola Ameobi, whom he admitted did well enough with his positioning in the game against Iran.
The Super Eagles risk elimination from the tournament as they face Bosnia and Herzegovina on Saturday in their second group game, after only managing to get a goalless draw against the expected whipping boys of the group, Iran.