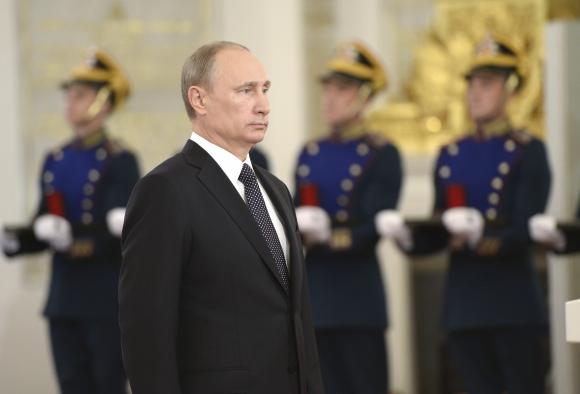 Russia President, Vladimir Putin, have  asked the Upper House, on Tuesday, to revoke the right it had granted him to order a military intervention in Ukraine in defence of Russian-speakers there, the Kremlin said in a statement.
This step by Putin would certainly be welcomed by the West as a sign that Moscow was ready to help engineer a settlement in Ukraine's largely Russian-speaking east, where a pro-Russian uprising against Kiev began in April.
"The president has filed a proposal to the Federation Council on cancelling…the resolution on the use of Russia's Armed Forces on the territory of Ukraine," the Kremlin said in a statement on its website.
Federation Council Speaker, Valentina Matviyenko, said that the chamber would discuss Putin's request on Wednesday.
Putin's chief of staff, Sergei Ivanov, said Russia now expected Kiev to respond with measures of its own, without specifying what these should be.
President Petro Poroshenko of Ukraine described it as "first practical step" following Putin's statement of support last weekend for Poroshenko's peace plan for easternUkraine.
In the March 1 resolution, the Federation Council had granted Putin the right to "use the Russian Federation's Armed Forces on the territory of Ukraine until the social and political situation in the country normalises".
That resolution, with the eventual annexation of Crimea from Ukraine by Russia, helped push East-West relations to their lowest ebb since the Cold War and led the United States and Europe to impose sanctions on Moscow.
European Union foreign ministers, on Monday, had held out the prospect of further sanctions if Russia did not do more to support a peace process in eastern Ukraine, and had also asked it to revoke the March 1 resolution.
Like many of eastern Ukraine's Russian speakers, Moscow was infuriated by the toppling in January of President Viktor Yanukovich, after he pulled out of an association agreement with the EU in favour of closer ties with Moscow.