Delta State Governor Commissions Rehabilitated Eku Hospital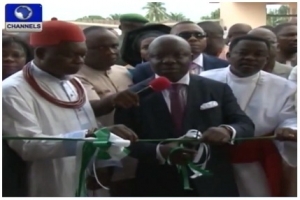 The 67-year old Eku Baptist Hospital in Ethiope East Local Government Area of Delta State has been rehabilitated with up to date medical facilities.
The hospital has served as an emergency unit for the residents in Warri, Udu, Abraka and its environs in time past.
At some point, it was abandoned and left to decay before the government of Delta State decided to step in to bring it back to it past glory.
Now it's been reconstructed and Equipped with the state-of-the-art medical facilities, three massive theatres, modern children ward and a host of other essential medical facilities.
The community, in joy, came out in their numbers to welcome the Governor, Emmanuel Uduaghan, and his team for the official re-opening of the oldest hospital in that region.
The Governor was received by the elders and prominent men from Eku amongst them, the Delta State Commissioner for Finance, Olorogun Kenneth Okpara.
Governor Uduaghan was indeed happy that his administration was able to bring the hospital back to life, as he cut the tape to formally commission the renovated hospital.
From the hospital ground, attention shifted to the resident of the commissioner for finance for a grand reception for the governor.
It was indeed a time to relax and unwind and most importantly be reassured that they wouldn't have to travel far to seek quality medical service and also not forgetting the job opportunities the newly revived hospital would provide.
Eku Hospital, before now, is known for the expertise of the medical workforce, a glory that the governor is looking to restore with the rehabilitation.