Plateau State Doctors Join Strike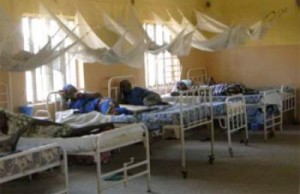 As the members of the Nigeria Medical Association enter the second day of their strike, doctors in public hospitals in Plateau State have joined in full compliance to the directives to embark on the indefinite strike.
Chairman of the body in Plateau State, Dr Christopher Yilgwan, during a press briefing in Jos, declared that the doctors in the state and across the nation, would continue to stay off duty until the Federal Government respects the agreement reached by both parties.
A visit to the Jos University Teaching Hospital, Juth, in Jos North-Central region of Nigeria, indicates that doctors were not attending to patients as most places were deserted.
The Outpatient Department (OPD) that was usually a beehive of activities was empty, as patients were not been attended to with the exception of patients on admission at the various wards.
As a measure of not leaving the patients without any medical attention, consultants and nurses have been filling the gap in the absence of the doctors, particularly for those on admission at the wards.
As the feud between the medical doctors and the Federal Government continue, government hospital patients have continued to bear the brunt.