Southern Kaduna Youths Protest Frequent Kinsmen Killings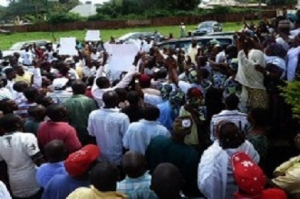 The aggrieved youths from southern Kaduna senatorial zone on Friday staged a peaceful protest in Kagoro town of Kaura Local Government Area of the state over the frequent killing of their kinsmen and destruction of property by unknown gunmen.
The protesting youths who go by the name, " concerned southern Kaduna Youths" made a passionate appeal to both Kaduna State  and the Federal Government to urgently curb the spate of further wasting of innocent souls and bring the culprits to book.
The Youths however, revealed that in the wake of the  attack over 3000 people were killed across the communities in Kaura, Sanga, Jaba, and Kachia Local Government Areas of the state since 2012 till date.
The group further said that, over 150,000 people were rendered homeless and that the recent attack in Sanga, a week ago, recorded about 200 casualties and over 10,000 displayed.
The youths, who marched along some major roads in Kagoro town around 10:00am local time, carried placard with different inscriptions conveying their feelings and lamenting their ordeal.
"Since the bloody attacks in the area increased  a year ago,  the state government has not shown much concern or intensified effort to stop the killings," they said. According to them, the frequent attacks have afflicted pains and severe hardships on the affected families and the entire Southern Kaduna, owing to lack of adequate security presence in the affected communities.
The angry youths therefore marched to the palace of the traditional ruler of Kagoro where they presented their protest letter for further presentation to the governor of the state and President Goodluck Jonathan.
The leader of the group,M. Vincent Badmos, who presented the letter, called for state of emergency in Kaduna State to stem the tide of invasion by armed Fulani herdsmen who always wreck havoc on the people and their belongings.
The youths likened the situation in southern Kaduna to what is happening in Borno, Adamawa and Yobe States in the northeast, currently under the state of emergency declared because of the increasing attacks on villages, churches, mosques and schools.
They, however, advocated for the formation of a vigilante service to boost the 'lean effort' of the military in tackling the security challenges facing the Southern Kaduna people.
In a swift reaction, the State government denied the allegation of negligence and lack of concern in protecting lives and property of the people.
The spokesman of the Kaduna State Governor, Ahmed Maiyaki, told Channels Television  that the government had released funds for the resettlement of displayed persons in the areas affected and was rehabilitating former grazing site to avoid the frequent clash between the Fulani herdsmen and the farmers.
The protesters, however, urged the State and the Federal Government to show serious commitment to the plight of the people and stop further killing in the area.