Nigerian Turkish Nile University Holds 2nd Convocation Ceremony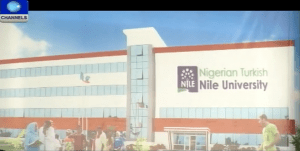 181 graduands received certificates at the 2nd convocation ceremony of the Nigerian Turkish Nile University in Abuja, Nigeria's Federal Capital Territory.
The graduating class produced at least 10 First Class Honours students.
"Either you join the labour market or you create a job for yourself. Be an entrepreneur," says Ibrahim Laden-Baki, one of the excited graduands, ready to take on the world.
The Governing Council of the University also conferred an honourary degree on Governor Ibrahim Gaidam of Yobe and the Director General of the State Security Service, Mr Ekpeyong Ita.
When the business of the day was done, the Institution's dance group thrilled the audience with their acrobatic display.