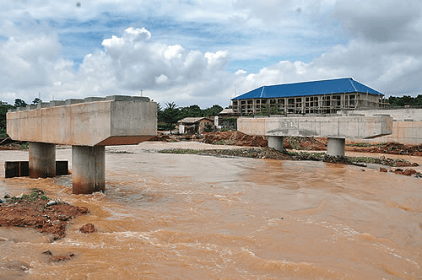 The Governor of Oyo State, Abiola Ajimobi, has demanded a faster process towards the completion of the Apete Bridge, which was washed away in 2011, and is now under construction.
Accompanied by members of his cabinet, Governor Ajimobi inspected the on-going construction work on the bridge, to assess the extent of the damage and to assure the people that government has not abandoned them.
During the visit, he disclosed that Government had paid a substantial part of the contract sum to the contractor but halted further payment to ensure the contractors give value for money.
A cross section of residents who spoke to Channels Television implored Government to speed up efforts on the bridge as they have been cut off from the rest of the city.
Meanwhile the Commissioner of Works, Mr Bimbo Kolade, explained that the Apete brigde project would be all encompassing, as 3.5km road leading to the bridge was also under rehabilitation and expansion. He assured residents of the area that it would be completed by year end.
Meanwhile, Governor Ajimobi also berated some politicians, he said, had been tampering with the pedestrian bridge under the guise of showing concern, warning that the Government would not allow any breach of peace.
The Governor thus directed the contractor handling the bridge to ensure that a temporary pedestrian bridge was put in place within a few days, and that the main bridge should be completed before the end of the year.
He explained that the completion period for the project was the end of the year in view of his administration's resolve not just to rehabilitate the bridge but to also expand and modernize it in line with his government's transformation agenda.
Governor Ajimobi frowned at the vandalism of the properties of the contractors handling the project, warning that people should desist from taking laws into their hands.
The President of the Students' Union Government of the Polytechnic, Ibadan, Mr. Iyiola Mubarak, implored the Governor to speed up work on the bridge as students are billed to resume on July 21.