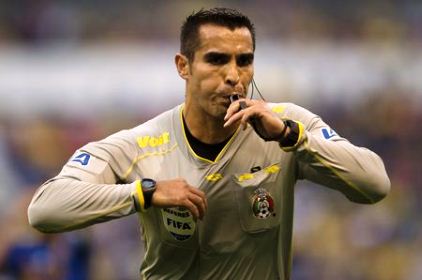 FIFA has announced the referee for match 61 of the FIFA World Cup™, the first semi-final between Brazil and Germany. It will be Marco Rodríguez, the Mexican referee who officiated in the match that saw Uruguay striker, Luis Suarez bite Italian Giorgio Chiellini.
Rodriguez, who did not see the incident involving Suarez and Chiellini during the match, which led to the Uruguay star being thrown out of the tournament and banned from football for four months, now has the task of keeping order in Sao Paulo for Tuesday's game.
The 40 year old, who sent off Italy's Claudio Marchisio in the same Group D fixture, during this tournament, also officiated in the group-stage match – Belgium v. Algeria.
Brazil 2014 is the third FIFA World Cup™ for Rodríguez and he refereed two games at each of the last two editions but has never officiated in a knockout stage match. In 2010, one of his matches was Germany's 4-0 victory over Australia.
During his career, Rodríguez has been selected for several international tournaments, including five editions of the CONCACAF Gold Cup (2005, 2007, 2009, 2011 and 2013), the Copa América 2004, the FIFA U-20 World Cup 2009 and three FIFA U-17 World Cups (2003, 2005 and 2013).
At club level, he has refereed three CONCACAF Champions League finals, and his most prestigious assignment was the final of the FIFA Club World Cup 2007 between Boca Juniors and AC Milan. He later oversaw Al Ahly v. Corinthians in the 2012 semi-finals of the same competition.
Meanwhile, Germany midfielder, Bastian Schweinsteiger, has warned match officials in the semi-final to keep an eye on Brazil's physical approach.
"Hard challenges definitely are part of their game, it's something we have to be careful of and the referee too," Schweinsteiger said.