FG Links Leading Politicians To Boko Haram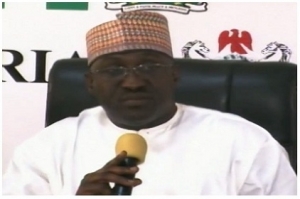 The Federal Government of Nigeria says leading politicians have links to a terrorist group, Boko Haram that has carried out most of its attacks in some states in the northeast.
Briefing journalists in Abuja on Wednesday, the coordinator of the Joint Information Centre for Security, Mr Mike Omeri, said the undisclosed politicians had been arrested and were being interrogated.
According to Omeri, some of the items recovered from the suspected members of the Boko Haram sect, implicating the politicians, include some sensitive registration card.
The agency refused to mention the names of the politicians, but promised that the security agencies would not condone involvement of politicians in activities that threaten national security.
"We wish to emphasise that the government, particularly the security forces and security agencies, will not condone involvement of politicians in security matters where the interest of our country is concerned and involved," he warned.
Efforts are ongoing to ensure the rescue of the over 200 schoolgirls abducted from their school's dormitory in Chibok, Borno State by members of the Boko Haram sect on April 14.
The spokesman for the joint counter-terrorism forces, Major General Chris Olukolade, assured Nigerians that operations were ongoing to ensure the rescue of the girls soon.
"Operation is everywhere that we suspect or have reasons to know is the locations of terrorists. Sambisa Forest just happen to be one of them and everywhere they are located in this country, security forces will go after them," he said.
Few weeks after the girls were abducted, a group began a 'Bring Back Our Girls' campaign aimed at pushing the government and security forces to increase efforts to rescue the girls.
The spokesperson for the Department of States Services, Marylyn Ogar, warned the campaign group to be civic with their activities, as security operatives would not tolerate actions aimed at undermining government's effort to fight insurgency.
"It is an ordinary movement seeking to act or put pressure on the government or security operations to release the girls. There will be no need for the groups to begin to have tags or insisting that they must be properly registered.
"We know that they have bank accounts. We also know that they want to go to Asokoro extension to assimilate some false movement where they have foreign media to say that they are matching into Sambisa or Chibok," Ogar said.
The Boko Haram activities have wrecked serious havoc in Nigeria in the last four years, leaving several persons dead and many others maimed.
Their actions have been condemned by the international community that are now providing Nigeria intelligence support to ensure that the acts of terrorism cease.