Senate Considers Bill Aimed At Strengthening Oil And Gas Export Free Zone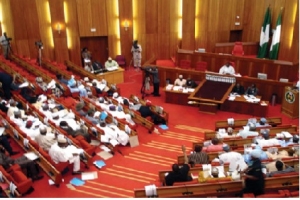 A bill to amend the law setting up the Oil and Gas Export Free Zone scaled the crucial second reading in the Senate on Wednesday, recording a major progress in improving the activities in the sector.
The federal government has set up the Onne Oil and Gas Free Zone to provide a greater level of Foreign Direct Investment in the oil and gas sector.
The sponsor of the Amendment Bill, Senator Odion Ugbesia and Senator Ben Ayade said the free zone had not achieved the purpose for which it was established as a result of a weak regulatory framework guiding its operations.
Senator Ugbesia said the bill, if passed into law, would to address some of the deficiencies in the enabling Authority Act that was enacted before the free trade zones was set up.
He further said that it would strengthen its legislative framework and provide a tax holiday for investors.