Taliban Survivor, Malala Visits Nigeria To Campaign For Chibok Girls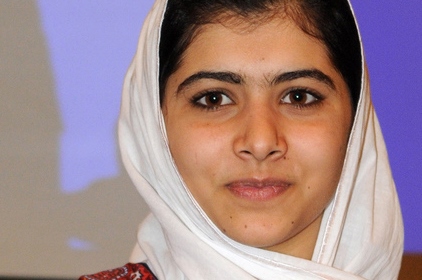 Pakistani rights activist, Malala Yousafzai, who survived being shot in the head by Taliban a few years ago for campaigning for girl child education, arrived Abuja, Nigeria in the early hours of Sunday July 13, to raise her voice in the demand to release the kidnapped Chibok girls.
Malala, who will celebrate her 17th year birthday on Monday, met with relatives of the more than 200 kidnapped girls who were kidnapped by militant group, Boko Haram, from a school at Chibok in April.
Some of the parents broke down into tears as Malala spoke at a hotel in the capital Abuja on Sunday.
"I can see those girls as my sisters … and I'm going to speak up for them until they are released," said Malala.
"I'm going to participate actively in the 'bring back our girls' campaign to make sure that they return safely and they continue their education.
"I can feel… the circumstances under which you are suffering.
"It's quite difficult for a parent to know that their daughter is in great danger. My birthday wish this year is…bring back our girls now and alive", Malala said.
She is scheduled to meet with the President Goodluck Jonathan to further discuss how the girls can be saved.
Malala Yousafzai became famous when she was shot by the Taliban in October 2012 after she spoke publicly about girls' rights to education.
Her presence would hopefully put more pressure on the Nigerian Government to help bring back the girls.