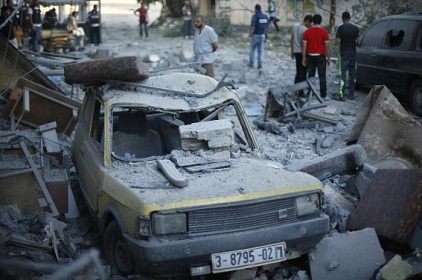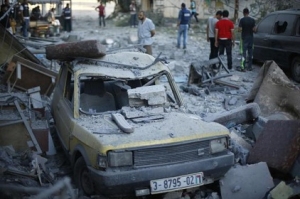 Israel resumed air strikes in the Gaza Strip on Wednesday, a day after holding fire in deference to an Egyptian-proposed cease-fire deal that failed to get Hamas militants to halt rocket attacks.
Attacks in the Gaza Strip killed at least seven Palestinians in the early hours of Wednesday, Gaza health officials said, and destroyed the house of Mahmoud Zahar – who is believed to be in hiding elsewhere – in the first apparent targeting of a top Hamas political leader.
The week-old conflict seemed to be at a turning point on Tuesday, with Hamas defying Arab and Western calls to cease fire and Israel threatening to step up an offensive that could include an invasion of the densely populated enclave.
The Israeli military said on Wednesday it had sent out warning messages to residents in the northern Gaza Strip to evacuate their homes by 0800 (1 a.m. EDT) ahead of renewed attacks. Palestinian officials said residents in two Gaza City neighborhoods had received the warnings but Gaza Interior Ministry told people not to heed the Israeli messages and dismissed them as psychological warfare.
Gaza militants kept up rocket salvoes into Israel, firing more than 150 rockets at Israel since Tuesday, when the truce was to begin.
Under the blueprint announced by Egypt – Gaza's neighbor and whose military-backed government has been at odds with Islamist Hamas – a mutual "de-escalation" was to have begun at 9 a.m. (2 a.m. EDT), with hostilities ceasing within 12 hours.
Hamas' armed wing, the Izz el-Deen al-Qassam Brigades, rejected the ceasefire deal, a proposal that addressed in only general terms some of its key demands, and said its battle with Israel would "increase in ferocity and intensity".
But Moussa Abu Marzouk, a Hamas political official who was in Cairo, said the movement, which is seeking a deal that would ease the Egyptian and Israeli border restrictions throttling Gaza's economy, had made no final decision on Cairo's proposal.
Israel, citing the persistent salvoes, resumed attacks in Gaza six hours after implementation of the truce was to have begun. The military said it targeted at least 20 of Hamas' hidden rocket launchers, tunnels and weapons storage facilities. Prime Minister Benjamin Netanyahu said in broadcast remarks late on Tuesday that Israel had no choice but to "expand and intensify" its campaign on Hamas, though he did not specifically mention the possibility of a ground incursion.
The Israeli security cabinet which met into the early hours of Wednesday had discussed a limited ground operation, an Israeli official said.