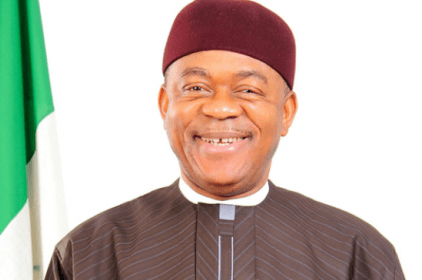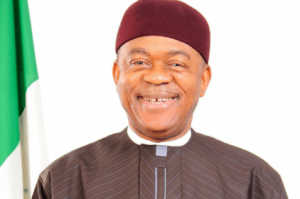 The Government of Abia State has started work on the popular Umuahia-Ikot Ekpene road to make it motorable after months of abandonment.
Despite the fact that suitable and durable road infrastructures are part of the obligations of the Government in Nigeria to its citizenry, some roads are in such a deplorable and dilapidated condition because of contending issues arising from whether it is a federal road or a state road, a situation that has made the masses and commuters bear the brunt of having to suffer or face hardship while plying the roads.
The Umuahia-Ikot Ekpene Road is a federal road linking Abia State to its neighboring state of Akwa Ibom and Cross River. A major interstate road that has great economic importance and Nigerians ply the road for various reasons which include education and commercial activities amongst others.
The road is one of the busiest roads connecting the south-east to south-south Nigeria, mostly used by commuters including traders returning from the south-west and northern parts of the country. The road had over the years depleted, due to heavy vehicular movement on the road and lack of maintenance and at the moment, the state of the road has hugely deteriorated.
Although some portions of the road were still motorable, other section before and after Ikwuano Local Government Area in Umuahia are needing urgent repairs. The sections of the road at Ekebedi community, Umuegbule, Ogbuegbule, Awomukwu areas are also needing repairs.
Due to the deplorable stat of the road, the State government directed the Abia State Road Maintenance Agency (ABROMA) to commence immediate repair and construction of the bad portions of the road.
The repairs that the Abia State had started would ease the suffering encountered by the commuters and the effect it has on the traders and drivers carrying goods to other state.
Equipment, tractors and manpower were immediately moved to the site to fast track the mending process, but work was temporarily stopped when some minor issues with the land owners, and this resulted to a heavy traffic, tapping trailers carrying goods and materials.
The youths were elated by Governor Theodore Orji's intervention and willfully cooperated with ABROMA to ensure the work is done.
However, the State governor, Mr Theodore Orji, was at the site for inspection. He said he was impressed by the quality of work done by the ABROMA and urged the community to cooperate and support the effort.
The section of the road at Ekebedi, Ndioruh had already taken a new look, however, traders and commuters, who ply the road, though, impressed by  the action of the government, have some major concerns ranging from quality and long span of the road. But the GM/CEO ABROMA dismissed the doubt with assurance of a quality job.
Irrespective of which road belongs to the federal or state government, all that an average Nigerian desire to see is a better improvement in the road infrastructures with a regular maintenance.