Peace In Nasarawa After Protest Against Planned Governor's Impeachment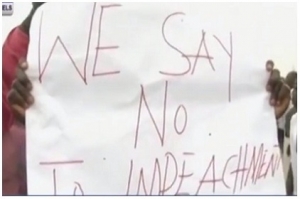 The police have restored peace in Lafia, the Nasarawa State capital, after a violent protest on Thursday against the impeachment notice served on the state governor, Mr Umaru Tanko Al-Makura, by the Nasarawa State House of Assembly. 
Though, the Police said no live was lost as was earlier reported that three persons were killed in the fracas.
Briefing reporters on Friday on the "leave Al-makura alone" mass protest in Lafia, the Nasarawa State Commissioner of Police, Ibrahim Idris, refuted the media report claiming that lives were lost, saying that only two people sustained injuries but were treated and discharged.
The Police Commissioner added that a total of 23 persons were arrested with four suspects still at large.
Contrary to police's claims that no live was lost,when Channels Television visited Agu Hospital on Friday morning to see one of the injured, Mr Musa, the hospital could not trace his whereabouts as the hospital denied admitting him.
The streets of Lafia now enjoy relative calm and tranquility as opposed to the sustained mass protest in the last 72 hours.
However, the controversial plot to impeach Governor Al-makura stands as the lawmakers remain defiant to the protesters demands.
The Emir of Lafia, Dr. Mustapha Agwai and other traditional rulers have held a meeting aimed at resolving the issues. At the end of the meeting they urged political leaders  in the state to end the crisis as soon as possible to avoid loss of lives and property.