Bring Back Our Girls: Campaigners Urge FG To Improve Military Welfare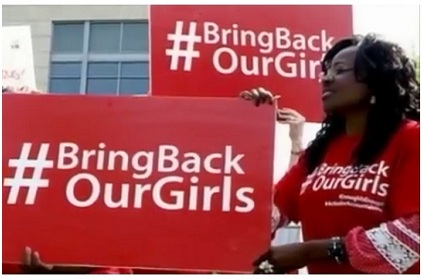 The 'Bring Back Our Girls' campaigners have again called on the Federal Government to intensify efforts at rescuing the over 200 girls abducted by the Boko Haram sect in Borno State.
Speaking at their daily sit out at the Unity Fountain Abuja, the campaigners asked the Federal Government to improve the welfare of the military to enable them confront Boko Haram effectively.
On the outcome of the meeting with President Jonathan, the Chairman of the Chibok community in Abuja, Mr Hosea Esanbido, said that the President assured them that the girls would soon be rescued.
He also said that President Jonathan assured the parents of the abducted girls that the education and welfare of the girls would be taken care of.
Fifty-one of the girls who escaped from their abductors were brought to the Presidential Villa earlier alongside the parents of those still in the camp of the Boko Haram.
The meeting was held under tight security and not even the State House correspondents were allowed to cover the closed-door meeting.
Also at the meeting were the governors of Borno and Bauchi States, Senate President, Ministers of Education, Finance, Information and other key officials in the Goodluck Jonathan's administration, including security personnel.
The Special Adviser to the President on Media and Publicity, Dr Reuben Abati, addressed State House correspondents after the meeting, saying that the President used the opportunity of the meeting to empathize with the girls and their parents and reassured them that everything would be done to make things easier for them especially the ones that have already escaped and the ones yet to be rescued.