President Jonathan Vows To Free Abducted Chibok Girls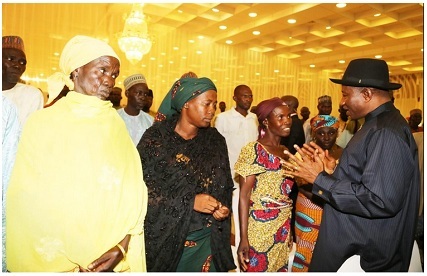 The Federal Government has reassured Nigerians and the Chibok community of the Government's determination to ensure that the abducted schoolgirls that are still in captivity are brought out alive.
This is the outcome of the special presidential meeting which was held with the parents of the Chibok girls in the Presidential Villa.
Speaking to State House correspondents after the meeting, the Special Adviser to the President on Media and Publicity, Dr Reuben Abati, said that the President used the opportunity of the meeting to empathize with the girls and their parents and reassured them that everything would be done to make things easier for them especially the ones that have already escaped and the ones yet to be rescued.
"Statement was made by all the category representatives and they spoke their mind, they conveyed their messages and the girls spoke on the account of what they went through in the hands of their captors," he said.
President Goodluck Jonathan also assured them that their education would not be allowed to suffer and after everything, evil would never prevail over good.
Fifty-one of the girls who escaped from their abductors, a terrorist group, Boko Haram, were brought to the presidential villa earlier alongside the parents of those still in the camp of the Boko Haram.


The meeting was held under tight security and not even the State House correspondents were allowed to cover the closed-door meeting.
Before the meeting started, four of the brand new buses for the Abuja Urban Mass Transit were used to convey the girls and their parents from their hotel to the venue of the long expected meeting.
Journalists and security personnel watched as the girls and their parents, one after the other, beginning with the school principal, alighted from the buses.
Some other parents of the missing girls further alighted from another bus, with some of them looking devastated by the situation they found themselves in.
Into the hall proper, the escaped girls were meant to seat together about 51 of them. Parents of the girls still in captivity sat at one end, parents of the escaped girls were together, while the community and opinion leaders, who are not direct parents of the girls, also sat together.
President Jonathan joined them at about 11:15am local time to kick-start the special meeting.
Also at the meeting were the governors of Borno and Bauchi States, Senate President, Ministers of Education, Finance, Information and other key officials in the Goodluck Jonathan's administration, including security personnel.