Governor Yero Says Aggression Is Un-Islamic, Recommends Prayers To End Insurgency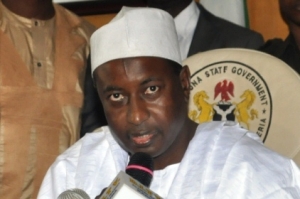 Governor Mukhtar Yero of Kaduna State has felicitated with all Muslim faithful as they celebrate Eid-el-Fitr marking the end of Ramadan.
In a statement signed by his Director-General, Media and Publicity, Ahmed Maiyaki, Governor Yero prayed that Allah would accept all their acts of worship during the holy period and also forgive their shortcomings and reward them with Paradise in the hereafter.
He called on Muslims all over the country to sustain prayers and to be genuinely committed towards resolving the current state of insecurity plaguing the nation, especially in some parts of the North, stressing that Muslims should lead the way in the quest to build a peaceful, united and prosperous Nigeria.
The Governor further urged Muslims to uphold the spirit of brotherhood of mankind as enjoined by Allah, by promoting peace, unity and progress in the entire Globe.
According to the statement, "It is a duty on all Muslims to make sacrifices towards ensuring peaceful and harmonious co-existence with adherents of other faiths just like the holy Prophet Muhammad did during his lifetime", adding that aggression of any kind is un-Islamic.
"I therefore enjoin all Muslims to maintain the virtues of the holy Month of Ramadan and make the practices during this period a lifetime habit. By so doing, we shall imbibe the acts of humility and respect for human dignity as enjoined by the Holy Prophet of Islam (PBUH)."
On the role of his administration, part of the statement also read, "On our part as Government in Kaduna State, we remain committed to impartial and fair treatment of all citizens in the state, irrespective of whatever perceived differences.
"To us, what matters is the welfare of our people and we are determined to do good to all sections of the state. To us that is a divine obligation that cannot be compromised.
"I also urge all Muslims to use the occasion of Eid-el-Fitr to extend hands of friendship to citizens of other faiths in line with the divine injunction on all of us to do good to others as well as the practice of the Prophet of Peace, who showed love and mercy to all irrespective of differences.
"I wish the entire Muslim Ummah Happy and peaceful Eid-el-Fitr celebrations and may Allah sustain our lives to witness many more holy months of Ramadan in future."