Bring Back Our Girls Campaigners Call For Redoubled Effort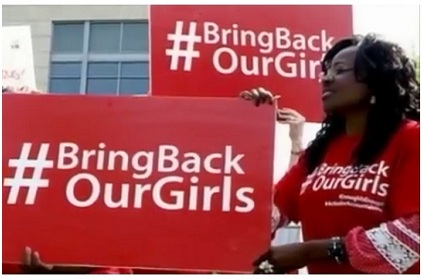 In their Monday sit-out, the Bring Back Our Girls campaigners calling for the rescue of the over 200 girls abducted from their school dormitory in Chibok, Borno State, urged security officials to redouble their efforts in their search and rescue operations.
Members of the group, who expressed worries over the spate of bombings in the city of  Kano, with the involvement of teenage girls used as agents of destruction, queried the claims made by the military that they had identified the locations of the girls.
They stressed that "knowing where the girls are is not enough", insiting that all they want is action in reuniting the girls with their families
One of the campaigners, Bukky Shonibare, said the group chose to celebrate the Eid- Fitri holidays in in the usual venue for the sit-out, the Unity Fountain.
She said the campaigners left their houses, to gather at the venue to continue their sit-out sessions which is focused on demanding results from the rescue operations.
Shonibare further stressed that it is a 'no retreat, no surrender, for them, further raising concerns over the use of teenage girls in recent bombings.
Another member of the group, Mr Emman Shehu, said while government and security forces were working tirelessly to ensure the safe return of the girls, Nigerians should constantly remind government to match its words with action.
Also,  Aisha Yesufu, a member of the group, said  time is ticking fast as its over 105 days since 275 girls were kidnapped in their school in Chibok, Borno State.
She stressed that what many Nigerians were eager to see in the days ahead was the safe return of the girls.