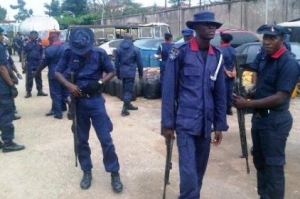 Kogi State Command of the Nigeria Security and Civil Defence Corps has paraded two suspects who are involved in petroleum pipeline vandalism.
The two suspects; Micheal Urom and Obi Kelechi, were said to have been arrested in a forest in Geba with two loaded tankers filled with substance suspected to be crude oil at about 2am.
The State Commandant of the NSCDC, Adesuyi Dayo, who paraded them at the NSCDC State Command Headquarters in Lokoja, told newsmen that the suspects were caught at the scene of crime, but on sighting his men some of them took to their heels while the two paraded were arrested.
One of the  suspects, 27 year old Micheal Urom, who hails from Ebonyi State, said that he was a former staff of Dangote before he was laid off his job, and he was in search of another job when he got this one.
Mr Adesuyi Dayo said that vandalism of petroleum pipeline and oil theft remained a major destruction to the country's economy which needs to be tackled, calling on Nigerians to cooperate with security agencies in fighting the menace.
While also warning those involved in petroleum pipeline vandalism in the state to desist from the act, he vowed that as the new head of the Kogi Command of the NSCDC, he would leave no stone unturned towards ensuring that the state is rid of the crime.
Having promised that the suspects would be prosecuted according to the law, he called on people in the state to give useful information to his command which would help in tracking down more of those involved in the illicit act.