Security Analyst Scores FG 10 Percent On Counter-Terrorism Measures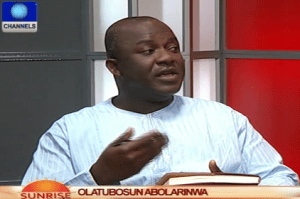 A Security Consultant, Olatubosun Abolarinwa, on Thursday expressed disappointment in the Federal Government's counter-terrorism measures, scoring it 10 percent and noting that "we are almost 67 years backward in our fight against terrorism".
Speaking in light of the recent attacks by Boko Haram and the use of young female suicide bombers, Abolarinwa said "none of this should be surprising" as the study of terrorism trends, all over the world, shows that the events happening in Nigeria are not new.
"If you study terrorism and its trend all over the world, there is nothing happening in Nigeria now that has not happened somewhere else in the world," he said, noting that the new trend of indoctrinating and using young suicide bombers, was saddening.
He went further to say that another sad thing was the government's efforts to "indoctrinate the society at large, to counter it".
He however noted that there were two ways of dealing with terrorism, including anti-terrorism – which is majorly the work of the security agencies – and counter-terrorism – which involves the general populace.
"The counter terrorism initiative of the government at the moment can be rated at 10 percent" he said, insisting that "we cannot continue to pretend, or to assume, or believe that it is the law enforcement agencies that are going to deal with this or solve it.
"It is never done like that," Abolarinwa said.
He further stressed that the government needs to take an active step to ensure that citizens are highly conscious of the situation at hand, as majority don't believe the severity of terrorism until there is an explosion or bomb scare around them.
"Now is the time, not later, although it is a little bit late but not too late to take steps in indoctrinating the society on how to counter terrorism," he said, adding that "It's ok to be over-suspicious", on the part of the people.
He called on the government to evaluate the funds spent in the fight against terrorism vis a vis the results achieved.