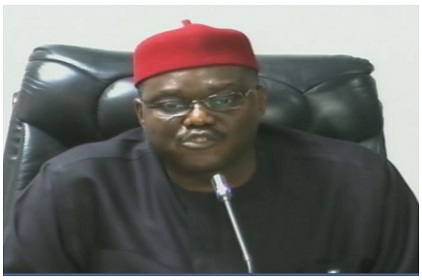 The Minister of Health, Prof Onyebuchi Chukwu, has called for collaboration across board to combat the challenges posed by the Ebola virus.
Prof Chukwu, who was speaking during the launch of the Defence Identification Centre, urged the military to use it's expertise in high tech medicine to help other health centres in finding a cure to the deadly Ebola disease.
Beyond aiding the military in it's operations, Prof Chukwu believes the centre provides an opportunity to help the government combat some health challenges confronting the nation. He urged the military to ensure the centre is maintained to add value to the nation's economy.
Prof Chukwu added that "now that the armed forces is going into high technological molecular diagnosis, it will be important, even in the context of the recent challenges of Ebola outbreak, to extend this facility to other diagnostic facilities; key ones, particularly areas you think members of the armed forces could be exposed to in modern warfare.
"It will be necessary that as an adjunct, since you are already moving into molecular medicine; high tech medicine, that you also begin to think of how to make proper diagnosis in each of these centres that are linked to this major Defence Identification Centre," he said.
The Chief of Defence Staff, Air Chief Marshal Alex Badeh, while responding to the call, noted that the hazards of counter terrorism has made it imperative for the Nigerian military to continue to make technological advancements, including the DNA Centre, designed for the identification of the casualties of war and terrorism.
Air Chief Marshal Badeh also noted that "on a few occasions were multiple fatalities were recorded and corpses could not be identified, mass burials were resorted to" adding that such burials deny the heroes the privilege of being buried properly, while robbing the bereaved families the honour and satisfaction of their loved ones given befitting burials.
Ebola hemorrhagic fever (Ebola HF) is one of numerous Viral Hemorrhagic Fevers. It is a severe, often fatal disease in human beings.