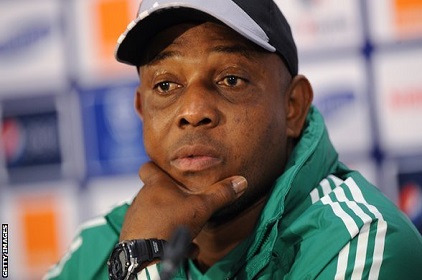 The Executive Committee of the Nigerian Football Federation (NFF), says that it expects Stephen Keshi to resume as the Head Coach of the Nigerian Super Eagles next week.
The Executive Committee mandated the secretariat to reach out to the 2013 African Nations Cup winner and conclude the details of his contract.
NFF Spokesperson, Emeka Iyama, said that a three-man committee was set up by the NFF and they were having talks with Keshi's lawyer to ensure that the processes are concluded in time to resume work.
"We expect that the signing would be next week so that he can resume work ahead of the fast-approaching 2015 African Cup of Nations qualifying series," he said.
Stephen Keshi's immediate task would be a 2015 African Cup of Nations qualifier on September 7 between Nigeria and Rwanda.
South Africa and Sudan are also in the group, with the top two qualifying for the finals in Morocco in January.
Stephen Keshi, whose initial contract expired with the World Cup in Brazil, expressed his willingness to continue after leading the Super Eagles to the 2013 African Cup of Nations title and a place in the round of 16 in Brazil.